Where does the time go? Here we are already in November! Christmas is right around the corner (GASP!).
I've just added the FINAL round robin instructions. Have you made yours yet?
Our December meeting will be a finger-food pot luck lunch, with a cute craft by Darryl. The meeting will start a bit later, at 10am. See you then!
---
Summer 2018
We're having a busy summer!
On August 18th, the Quilters once again participated in the Mayne Island Fall Fair Parade. With great organization by Darryl, and great musical accompaniment, the Mardi Gras ladies won first place (again) in the Walkers division.
Here's a picture of our award, plus a link to a video of the parade.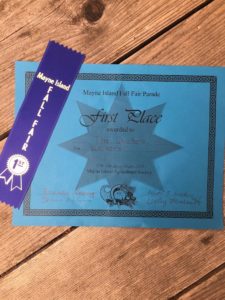 https://www.youtube.com/watch?v=M7VAUjqh8Jg&feature=youtu.be
No time for rest…… on AUGUST 23 we'll be hosting an OPEN HOUSE at the Ag Hall.
It's a summer QTYW, plus we'll be welcoming the public and encouraging them to join the guild. We've got a cute pouch pattern to make, plus as always, coffee, tea and goodies.
Join as at 9 for Wilt, or 10-3 for the Open House.
---
March 2018
Happy March, and to all those who celebrate the green – Happy St. Patrick's Day!
We've got a great Sewing Room Sale this month – bring your loonies, toonies and all the stuff you want someone else to own! Proceeds go towards Comfort Quilts.
See you at the meeting on Tuesday, March 13th @ 9am.
---
February 2018
Reminder that Days for Girls workshop is on Thursday, February 8th at the Firehall.
Guild meeting – Tuesday, February 13th – our program this month is Comfort Quilts, and we'll be working on a Flowering Snowball block.
Come on down to Quilt til You Wilt on Thursday, Feb 22.
---
January 2018
See you on January 9th for our first meeting of the year!
---
December 2017
December's meeting will be our Christmas Social – later start time of 10am. See you there!
---
October 2017
Update October 18 – Show & Share from September and October now available to view.
---
We've had a few newsletter challenges this month. The halloween goblins arrived early. If you have not received a newsletter, please check the Member's Page for a copy.
Our meeting is Tuesday, October 9th. 9am at the Ag Hall.
The program this month is a pieced pumpkin block – so bring some orange fabric.
No fat quarter draw this month, as we plan for a new monthly challenge.
See you Tuesday!
September 2017
The newsletter is on it's way, and lots of areas of the website have been updated.
Check out the new calendar page, as a reminder of what happens & when. New Show & Share slide shows have been added, as well as some updates from HAW.
See you on September 12th at our Open House.
---
August 2017
Fall Fair Parade – we won! Thanks to the talented Fay and her team – Darryl, Ibet, Mirjam and Pam. It was a great day! If you weren't able to come to the parade, check out this video from Connie's husband.
Reminder – Quilt til you Wilt – August 24. Bring a dish to share for a potluck lunch.
---
Quilt til you Wilt – It's a go for summer!
Two Dates: July 27 & August 24. Ag Hall, starting at 9am. See you there!
Fall Fair Float – interested in being in the float, or helping? Come to the Wilt meeting in
---
June 2017
We've got a lot happening in June!
June 5 – Hands Across the Water, at the Community Centre. Starts at 11am. If you are bringing salads or desserts – please drop them into the kitchen between 10:30-11.
We are having a book sale – if you have unwanted books to donate, bring them along. Proceeds to the next HAW.
June 6/7 – Workshops with Krista Hennebury. Tuesday is Cutting Garden, Wednesday is Temperature Check. For those who have ordered fabric, Krista will have it on Monday at HAW.
June 13 – Our June meeting and season wind up – potluck finger food.
---
May 2017
A Reminder – our May Meeting will be held on THURSDAY, MAY 11 due to the election taking place in the Ag Hall on Tuesday.
Please remember to bring your My Canada Challenge Quilt.
April Showers bring May flowers – lets hope there's lots in bloom next month.
---
March 2017
It's March already, and we have too much snow! It's time for some Guinness and the wearing of green to encourage spring to make an appearance!
Guild Meeting – Tuesday, March 14th, 9am.
Quilt til you Wilt – Thursday, March 23rd.
For more info on what's happening, check out the newsletter.
---
February 2017
We have another busy month ahead!
Beginner's Class – Thursday, Feb. 9th at the Ag Hall, 10-5 – see the Programs page for more info. (Note new start time, due weather!)
Days for Girls – Sunday, Feb. 12th at the Community Centre, 9-5
Guild Meeting – Tuesday, Feb. 14th,
starting at 9am. Don't forget your fat quarter!
Quilt Til you Wilt – Thursday, Feb 16th . Please sign up at the guild meeting, so we know who to expect.
---
January 2017
There's a lot going on this month in a very short time!
Days for Girls will be held Sunday, January 15 at the Community Centre, 9-5.
Our next Guild meeting is Tuesday, January 17 at the Ag Hall, starting at 9am. The program is an easy Fat Quarter Bag – check the newsletter for details.
QTYW will be Thursday, January 19 – sign up at the Guild meeting.
Whew! See you soon.
---
NOVEMBER
November's business meeting was short and sweet! Not too much to discuss, so we were done quickly. On to Show and Share, and the Program.
Here's a few photos of our members' work:
The program for November was Improv Birds and Trees. Everyone finished their birds, and most everyone got a good start on their trees. Here are a couple of photos of the finished products. Check on the Program page for links to the designers who inspired us.
October Meeting
We have a bit of a new look for the website. Feedback always appreciated!
Hope everyone enjoyed the October meeting. We had a vote on expenditures for the upcoming months and years, and some great show & share. Rebecca volunteered to chair Hands Across the Water next June. Lots of others have offered to assist, thank goodness – but there's always room for more!
Here's a few pictures of our members' work this month:
Sandy presented the first set of instructions for the "Do it Yourself" round robin, which will continue through next year. There's still time to get your centre block and first round started. The next round of instructions will be available in January.
We'll be doing improv birds and trees at the November meeting – stay tuned for the supply list. The blocks are inspired by a quilt we saw at the HAW meeting in Duncan this year, which was inspired by this quilt by Pie Lady Quilts. She does great work!
December's meeting will be full of fun – it's auction time! Get searching for items that everyone will want to bid on. Karen and Daryl are accepting the donations.
Next meeting – November 8. See you then.